How to Edit Your Video Content With Wisecut, An AI Video Editing Platform
Wisecut, An AI Video Editing Platform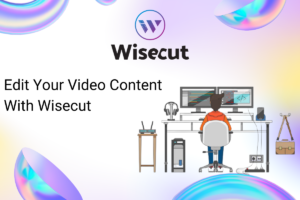 As one of the most common ways to build trust and rapport with your audience, videos are a great way to help establish credibility and provide valuable insight. However, a poorly shot or edited video can be just as damaging as one that's over-produced.
Video is the number one way people connect with a brand online. But if your video isn't good, you can kiss a lot of marketing success goodbye. You might think a video editing platform can help. But the truth is, most of these platforms are too complicated to use, don't offer the features you need, or even worse—they're expensive. In fact, you can do almost all of the work yourself. All you need is a smart editor like Wisecut.
With the most comprehensive library of industry-proven video editing tools and AI-powered video insights, Wisecut empowers you to create high-quality videos at scale.
Important Note: Wisecut can also be integrated into your existing content management system, making it easy to edit and manage any type of video on your website. Learn how Wisecut can save you time and money when it comes to creating and editing high-quality, on-brand videos for your business.
Learn about the latest technology in video editing from Wisecut, a company that uses artificial intelligence to create better videos.
You don't need to be perfect at communicating to make people love your video. In fact, you probably don't want to be perfect. It'll just be an endless source of self-doubt and insecurity. Instead, try being the kind of person who will always learn from their mistakes, always be willing to listen, and always strive to do better in every conversation.
Using Wisecut, you can identify awkward pauses and delete them automatically, without having to go through the video over and over again during the editing process.
A jump cut is a tool that allows you to cut out long, unnecessary sections of your video to keep the flow moving. This feature saves you time and gives you more content to fill up your YouTube videos.
To get started, simply drag any video file into the application and click the "Start Video Editor" button. Then choose a template for your video. For example, you can select one of the templates from the left sidebar, or create your own by clicking "Create New." The video editor is quite powerful, and offers several templates to choose from. You can also edit the video timeline. To add a title, click the plus symbol at the bottom of the timeline and type in the text you want to appear on the video. To add a voiceover, click the plus symbol next to the title and click the microphone icon at the top right corner of the screen.
For example, say you have a video interview with someone and want to keep the part where the person is giving their pitch. Rather than cutting it out and choosing to leave it in, you could use the tool to cut away all the other parts — including anything that might distract from what they're saying — and then simply paste it back into the video afterward.
You can also do things like add filters, transitions, and special effects, which are also done automatically.
The team really liked what Wisecut does, and we think the platform works really well. As an example,  a big fan of video and the use of social media to promote your products.
Video marketing is one of the most effective forms of content marketing available right now, so it's a great way to get your message out there. Social media is a great place to do that because people like sharing things that they love. They share your videos, and you can connect with them on social media to find new ways to grow your business.
Long pauses are not a good idea in any kind of video, especially one with content that needs to flow smoothly. If you're having trouble with a video, try cutting it short and using less filler.
Wisecut helps you remove awkward silences and replace them with the next logical or relevant words and phrases. This tool helps eliminate awkward pauses in your videos, making it easier for your viewers to follow what you're saying.
It makes your videos more concise by creating jumps with punch-ins and punch-outs. And because you can seamlessly eliminate any gaps, you never have to worry about your video being choppy and unappealing to your viewers.
Wisecut is a free online video editor that allows you to add titles and other overlays to your videos, add music and other sounds, and export your video to popular video formats. It also includes a social sharing function and upload to YouTube. A user interface that makes video editing easy and fun. This online video editor tool will allow you to create beautiful video presentations, promotional videos, and much more with just a few clicks.
It's like having an online editor at your fingertips! You can quickly create and edit a high-quality video with just a few clicks. WiseCut is a video editing app that can edit videos based on your preferences. You can add royalty-free music to any YouTube video, even one that was originally uploaded without any audio! There's also an auto-generated narrator, subtitles, and other features.
The powerful AI pauses, removes adds subtitles, and music for your videos
Process for the Perfected Video
Wisecut makes it easy to increase viewer engagement for a variety of different video types. There are no previous video editing skills required to use Wisecut. The AI-powered video editor makes creating your own content easy.
Upload a video, pick a style and music from a curated list, select create, and watch your video come to life. It's amazing how much better videos look when they're done by a human editor as opposed to using computer-generated images. With the new technology, Wisecut makes it possible for anyone to edit videos the way professionals do for free.
The user-friendly interface makes it easy for anyone to create professional-quality videos.
With the Wisecut AI Storyboard tool and easy-to-use edit-by-text function, anyone can quickly create high-quality videos. Wisecut is a smart and powerful tool designed for law enforcement and is cloud-based.
Key Features of Wise Cut:
You can use an auto-cut to pause a video right where you want it. It even works well for longer videos!
Automatic audio ducking
If you're creating a video product, you should consider using royalty-free music. AutoMusic does this automatically for you.
These subtitles are automatically generated. They may contain errors. If you need to review the subtitles please request them in the Support Center.
Automatic translator for video files. It allows you to choose different languages to translate the video and get the translated version.
Wisecut Auto Captions – Create automatically-generated subtitles with the Wisecut AI Storyboard. Improve engagement with automatically generated subtitles.
Wisecut Snippets is a tool that allows you to quickly create shorter versions of your videos that are optimized for mobile phones and for social media platforms such as Facebook and Twitter.
1. Wisecut is an AI-powered video editing platform that lets you edit your videos with ease.
2. Wisecut is designed for people who are looking to create compelling and engaging videos.
3. It helps you to quickly add text, shapes, filters, overlays, music, transitions, animations, titles and captions to your video.
4. You can use Wisecut to turn your favorite clips into an impressive video.
5. It provides an easy-to-use interface and intuitive drag and drop feature for users to customize their videos.
In conclusion, editing a video for social media or other platforms can seem daunting. This software makes it easy to edit and create videos, allowing users to add text, music, and images. All of the features are intuitive and simple to use.
Wisecut is a online video editor SAAS tool, that turns ordinary footage into something extraordinary. It uses machine learning to make it easier to edit videos without having to rely on a large team of skilled editors. This program will help you post engaging video content, or any kind of content, in just minutes.
For a limited time only, try Wisecut for free and check out all the cool features they've added.
Get the  Wisecut Video Editor today and discover a faster, smarter way to edit video.