Invideo Review 2021: The art of inspirational video making simplified
Create professional videos using Invideo
If you want to make videos but don't know where to start, this is the place for you. Here, you'll find step-by-step instructions on how to create professional videos quickly and easily.
A video is powerful – it sends a message, builds a brand, and can make or break a product.
Everyone knows how difficult it can be to come up with an original, eye-catching video idea. We all have moments when we have no clue what to say or how to say it. It's hard to tell if the video will be engaging while maintaining the exact story Line
You know that first impressions are important – whether it's an email, a website, or your video marketing. But too often you don't have the time or tools to make something that's truly impressive.
If you want to use videos to tell your brand story and capture attention, then you need to make sure your videos look professional, sound professional, and tell your story effectively. It'll get easier.
InVideo is a web-based video editing tool that lets businesses of all sizes create videos with custom content and branding and share them across social media and websites.
Creating a custom video can be daunting. But not with InVideo. Using the intuitive interface, you will be creating great custom videos in no time. Whether you are a beginner or an advanced user, you can use the step-by-step instructions and more than 5,000 pre-made templates to create a professional looking video in just a few minutes.
Getting Started with Invideo?
The first step is to select a specially designed video layout and copy and paste your script into the designated area. Next, start matching your words and visuals together with one of the millions of images or short videos already created for you by other marketers.
InVideo's intelligent engine does all the heavy lifting. It creates a video with your custom text, and then you can tweak it any way you want. You're in complete control, and you can trim, extend clips, crop the frame, loop video, and even change the volume.
The last step is to add some music from InVideo's vast library of copyright-free music. You can use any type of music you want, from happy to sad to scary to electronic… it doesn't matter. The choices are endless with InVideo, from informative and educational videos to sing-along videos to stock ticker updates.
InVideo is working hard to make sure this product keeps getting better. Check out their roadmap
Create professional-quality videos in minutes with pre-designed templates for all your marketing needs.
Advanced Editing Options: Add title slides, overlay text, split screen, fade between clips, and much, much more
Access InVideo's media library containing millions of beautiful images, videos and music.
If you are a marketer, or if you simply want to create effective marketing videos, this is the video tool you must have.
Use of Invideo in making Youtube and Social media videos
An intuitive and free online video editor, InVideo can help you create professional-looking videos easily. You can choose from the wide variety of templates designed explicitly for YouTube. 
You can add music, transitions, animations, fonts, images, and music to your video. And best of all, it's easy to customize the look and feel of your video with its wide range of powerful customization options.
Whether you are a beginner or a seasoned creator, it's easy to learn how to create a YouTube video. But it's the quality of your content that will make your video stand out from the crowd, not your ability to create the perfect video. 
So don't worry so much about creating the perfect video. Instead, edit your video well using a good video editing service. Add a "subscribe" button to your videos. And always ask your audience to like, subscribe, and comment on your videos.
What makes Invideo so powerful?
– 4,000+ fully customizable templates
– Pre-built elements such as CTAs, stickers, and overlays
– An in-built library of 8M+ stock images, video clips, and music from premium sources like Shutterstock and iStock
– A super intuitive yet powerful editor with the world's first intelligent video assistant (IVA)
– Auto text-to-speech + ability to add your own voiceovers
– 24*7 live chat support + community of more than 20K creators and marketers 
Pros:
The team has just started using InVideo, and they find it to be a very fun and easy software to use.
"It's very simple to use and easy. There are outstanding features and it is a great program for editing videos."
"My experience with InVideo is good. Now I can make a video in minutes before it takes me up to 1-hour to make a good quality video.
Cons:
One of the biggest problems is their program's problem with voice over synchronization with the video.
It's very difficult for me to operate it when it lags.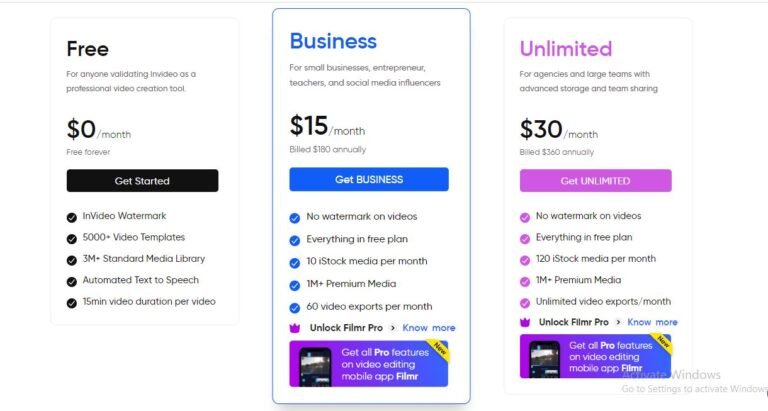 There is no such thing as a free lunch. If it sounds too good to be true, it probably is. Don't waste your time and money on things that aren't worth doing.
 There is no substitute for hard work. No matter what you try to sell. No matter how great your product or service is. If you don't put in the time and energy, your attempts to promote your product or service will fail.
 With InVideo's drag and drop user interface and more than 5,000 professionally designed templates, creating a great custom video is a breeze.
Should definitely recommend people who are starting of the video making Journey
Hope Your enjoy reading this Article.