Make Money by Making Awesome Videos Using Wave.video. Create Now!
Create Videos Using Wave.video
You're in the driver's seat. No longer will you find yourself in a digital wasteland while you're tasked with marketing videos. Wave.video is here for you! One destination that offers video hosting services, video editing, and video marketing in one. With Wave.video, you can create, host, and share social media videos, blog videos, and website videos with the click of a button
Important Note: Want to make your videos more share-worthy? Wave.video comes with 20+ stunning text animations to make your video look like it's straight out of Instagram. Not enough? Create videos that even your dad can enjoy with fun stickers and GIFs.
Wave.video is an online video maker that is great for making short promotional videos, videos for a blog or website, video ads, social media videos, and so much more. With hundreds of professionally designed templates, you can create a video in the matter of minutes. Wave.video's mission is to empower you with the tools to create content that tells your story or promotes your brand.
Wave.video is an online video maker that is great for making short promotional videos
For Social Media Marketers:

Grow your audience and increase engagement on social media with the power of video. Wave.video lets you make a YouTube-quality video in seconds. Grow your following and increase engagement on social media with the power of video. With Wave.video, you can make a thumbs-up video with a few simple clicks.

Blogs to Videos:Looking for new great ways to promote blogsA beautiful new blog design, great photos, and new blog posts are not the only ways to attract new visitors. There are dozens of ways to do this, but you will find the best one is to promote your blog with video. When you repurpose your content into a video, you can choose your background, add text, music, and a call to action. Now, your blog is ready to be shared with your followers.
Webinars/Live Streamers:Live streamers/ Webinar organizers are in for a visual treat when they sign up with Wave.video. It offers with a plethora of beautiful pre-designed templates to enhance the visuals of their live shows. The templates include essential elements for a successful live event:
Introduction videos for any Brands: Give your videos a consistent look by branding them with intro and outro clips. Easily make them in Wave.video.
Edit Videos Online:Wave.video has proven itself to be one of the best online video editors on the market. With Wave.video, you can easily combine video clips, crop and trim your video, add animated text, record a voiceover for your video, add music to video, apply color filters, change the aspect ratio of your video, and more. You can also add your own text or audio to the video. Furthermore, Wave.video enables you to apply filters on your video. All will get saved in Cloud.
Separate Your MP3 for your Podcast channel:You want to save a separate mp3 audio file from your video for your podcast, or you just want to use it as a voice-over? It's easy with wave.video.First, you need to render your video. Here you can read about all the details, but usually it's enough to click "Publish" and select "Video":This button will generate a new video file with just the audio, so that you can import
Embed Videos on Your website: With Wave.video, you can easily embed videos on various web pages, including websites, blogs, and landing pages. The platform will auto-generate an embed code for your uploaded videos and those that you make with Wave.video editor. Embedding videos have never been more fun!
Upload with easy to use Drag and Drop editor: Explore your inner storyteller with easy-to-use features for customizing your videos. Upload your media files with a simple drag & drop interface. Add text to your videos and highlight your messages with characters and effects.
Use of Wave.video in making YouTube and Social media videos: Get fresh content and media for your social media and beyond with the Wave.video free social calendar. Import your own video clips, images, and music or search the built-in stock library with 300 million assets. Edit your videos with the easy and powerful video editor. Add your message and logo. Easily embed your videos anywhere. Fine-tune your video appearance with the customizable player and upload it on YouTube.
Pros:
Drag and Drop Builder
Significant Support
Features are excellent
Limitation:
Limited font colour
 Free users may edit videos up to 15 seconds long
Create and Host Unlimited Videos with One Solution
Get Hosting, Editing, and Repurposing with the Price of One Solution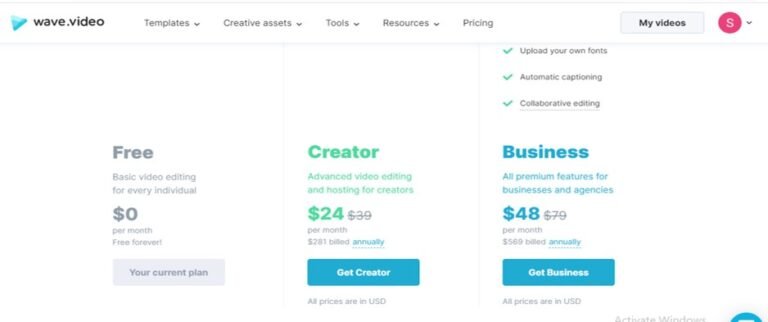 Smart business owners understand the impact of "viral videos" on social media. People are more likely to pay attention if they see an interesting video story (rather than a boring image).
Wave.video is one of the best tools available for creating viral videos. Anyone can use it, and it only takes about five minutes to create a polished video. There is no need to pay video producers and editors.
That anyone can use it, and it only takes half the time, truly makes Wave.video a valuable video editing software.
Of course, it's not a perfect tool. Even with a paid plan, there are limitations to its functionality.
We Video:
Have a blast while creating quality videos with the best free online video editor for you!
Hope you liked reading the content on this amazing SAAS tool.